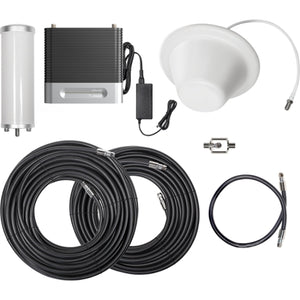 weBoost Office 100 Booster Kit
 Includes booster, omnidirectional donor antenna, dome coverage antenna, lightning arrestor, and jumper cables.
What is the difference between 50 ohm and 75 ohm?
Not much. A 50 ohm product has slightly larger cable connectors than the 75 ohm cable connectors, which resemble the connectors used on coax cable for TV and other telecom services. We offer both options because some professional installers prefer one over the other, but there's no measurable difference in performance between the two product kits.
WORKS WITH EVERY NETWORK, INCLUDING 5G, ON ANY CARRIER.
In the Box
Documents
472060

Office 100 Booster

314422

Omni Plus Outside Antenna

304412

Inside High-profile Dome Antenna

850030

Power Supply

859902

Lightning Surge Protector

Cable Mounting Clips

75' & 60' Wilson Cables

2' Wilson Cable