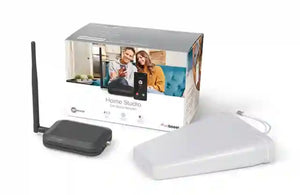 weboost Home Studio
Will this work for me?
A booster doesn't create cell signal. It picks up the outside cell signal (no matter how weak) and amplifies it inside your home for better talk, text, and data.
The effectiveness of any booster depends on the strength of the outside cell signal. With this in mind, see how much Home Studio improves cell signal coverage in your home.
| If the cell signal outside your home is: | | Your boosted cell signal will cover: |
| --- | --- | --- |
| Strong | → | Large Room |
| Good | → | Medium Room |
| Weak | → | Small Room |
| None | → | None |
Boost cell signal where you need it most — at home. 
Home Studio is an excellent value for instantly improving talk, text, and data at home. The multi-user cell signal booster is designed to increase cellular connectivity and signal strength in one large room, like a home office, living room, or studio apartment.* 
The integrated booster antenna works on all U.S. carrier networks and is compatible with all phones and cellular devices. You'll enjoy fewer dropped calls, uninterrupted texts, better voice quality, improved hotspot capability, faster internet speeds, better streaming, and more.
The booster meets all FCC guidelines and won't interrupt or harm any cell carriers' signals to and from the cell tower. 
The booster kit is backed by our 2-year manufacturer's warranty and a 30-day money-back guarantee with U.S.-based customer service. 
*May vary depending on outside signal conditions.
5G Compatible- weBoost is committed to the 5G movement, ensuring all our products work with 5G and support the latest in 5G technology.