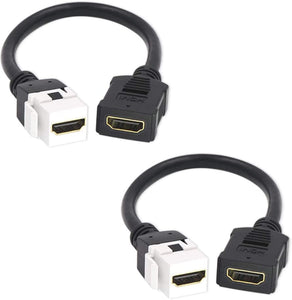 VCE 2-Pack HDMI Keystone Jack Adapter,HDMI Female to Female Pigtail Extension Cable Coupler Jack-6 Inch
VCE HDMI 1.4 Version - Supports 4K 30Hz, 3D, ARC and Backwards Compatible.

Easy snap-in retaining clip ensure a secure and corrosion free connection.

Front and back female connectors no adaptors are needed.

Tool-less connection and fits standard keystone wall plates, easy to install the cable on your wall plates.

Wide compatibility: Apple TV, Fire TV, Firestick, Roku, qhd and Rook, a simple solution for you.