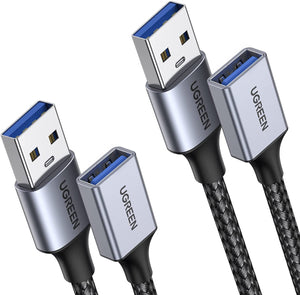 UGREEN USB Extension 2 Pack, (3 FT+ 3 FT) USB 3.0 Extender USB Cable
USB Extension: With nylon cable and aluminum alloy connector, this USB extension cable provides you fancy texture with good hand-feeling, and ensures extreme durability. Triple shielding of tinned copper, aluminum foil, and ground wire ensure stable and fast data transferring without noise or signal loss.

USB 3.0 Data Transfer & Charging Syncing: This USB 3.0 extender supports fast charging and data transmission at the same time, providing high-speed data transfer up to 5Gbps, which is 10X faster than USB 2.0 (480 Mbps). The USB cable male to female can transfer HD movies or files in just seconds and is also backward compatible with USB 2.0, 1.1, and 1.0.

Extreme Durability: Engineered with a nylon braided jacket and aluminum alloy case, the USB extension cords are more reliable and bend-free. The solid and durable braided nylon material provides stronger protection and flexible performance than others, won't bunch, tangle or knots, and avoids any potential breakage. Moreover, with more than 10,000 bend tests, this extension USB cable is more durable for a longer lifespan.

Universal Compatibility: The USB 3.0 extension comes with 2 Pack and ideal length, which you can use to extend your USB connection to your computer, as well as a variety of USB peripherals such as Mouse, Keyboard, Hard Drives, Flash Drives, Hubs, Printers, Card Readers, Bluetooth Adapters, Scanners.

Super Performance: With this long USB extension cable, you can extend your device to a more convenient location to connect another USB device, just plug and play, no driver needed. Perfectly suitable for enjoying video at the TV from a flash drive or hard drive, convenient your daily life with a super performance.