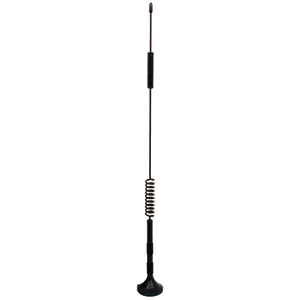 WeBoost 12'' Magnet Mount Antenna (FME-Female)
The Wilson Electronics 301103 dual band cellular antenna significantly reduces dropped calls and increases your cell phones range within the cellular (806 - 894 MHz) and PCS (1850 - 1990 MHz) bands. This magnet mount in-vehicle antenna was designed to minimize loss and maximize gain. You can expect 3 dB gain in the cellular band and 4 dB gain in the PCS band.
This whip antenna is easy-to-install. A flat metal ground plane is required. The cellular antenna is removable and can be easily transferred between vehicles. Requires Antenna Adapter Cable if connecting directly to a phone.
The Wilson dual band magnet mount antenna includes 10 feet of RG174 coax cable with installed FME female connector.