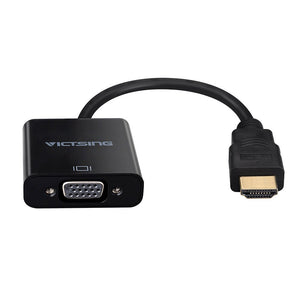 VicTsing 1080P HDMI Male to VGA Female Video Converter Adapter
This HDMI to VGA convertor can connect your input device with HDMI port to HD display output device with VGA port that you can enjoy the HD video or slides, and indulge yourself in more powerful music by HDTV, projector, epidiascope and so on. Its output resolution is up to 1920 X 1080P.
Feature: Support HD resolution, super clear picture, fast transmission speed The maximum signal range up to 1920 X 1200, 1080p;
Video input signal: 5Volts p-p(TTL) ;
Support VGA video bandwidth: 10 bit, 162MHz
Video amplifier bandwidth: 162MHz
Support resolution up to 1920 X 1200, reduce blank signal during transmit.
-Newly standby function, environmental friendly and energy saving.
-Lower energy consumption, heat-reduced, extend the life of the product.
-Stable performance, hard to skip the screen
Specifications Input: HDMI Male
Output: VGA Female; A VGA cable (sold separately) is required
Supported Resolutions: 480i/480p/576i/576p/800x600/720i/ 720p/ 1280x1024/1600x1200/1080i/1080p
HDCP Support: No
Audio Support: No
Installation: Plug and Play
Please Note: HDMI-VGA conversion does not work for copyright protected contents. This adapter is not compatible with PS3/4, Xbox, or Blu-ray player
This is not a bi-directional adapter. It only transfers signal from HDMI to VGA.
Package included: - 1x VicTsing HDMI to VGA Adapter
Warranty: Every VicTsing product includes a 45 days money-back and 12-month, worry-free Guarantee!