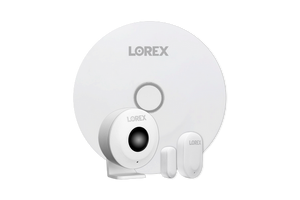 Smart Sensor Kit with 1 Window/Door Sensor and 1 Motion Sensor
Smart Sensor Starter Kit with 2 Sensors
Not all locations require video monitoring, especially when it comes to the inside of your house. That's why we have developed this sensor kit to help add some vital security without video. Simply connect the included sensors to the Lorex Sensor Hub, which pairs with the Lorex Home mobile app, and you will know the moment any motion is detected by the motion sensor or if a door or window has been opened with push notifications. The Lorex Sensor Hub can accommodate up to ten sensors, so feel free to expand this kit with additional sensors to any spots around your house you want to add some indoor security while maintaining your privacy.

sensor hub
1 × Sensor Hub
Each hub can accommodate up to 10 sensors.

Motion Sensor
1 × Motion Sensor
Peel and stick to locations around your house, including ceilings, walls, or the top of any flat surface.

Door / Window Sensor
1 × Window / Door Sensor
Simply stick the sensors on any door or window frame in your home.

All pictures shown are for illustration purpose only. Actual product sizes may vary.


Do I need a Starter Kit?


YES
If using standalone or with an NVR or DVR system

.

Add-on Sensors connect to The Lorex Sensor Hub (included in this Starter Kit), which connects to the Lorex Home App.


Sensor Hub Compatibility

NO
If using with the Lorex Smart Home Security Center.



Add-on Sensors are connected directly to the Lorex Smart Home Security Center without a Lorex Sensor Hub.


LSHSC Compatibility

AY41TR PIR Motion Sensor
Keep tabs when you are away
Manage your sensors with the easy-to-use Lorex Home™ app. You can also specify which sensors will be armed or disarmed using the mobile app.


Home Mode: Door / Window sensors are enabled, but Motion sensors will be disabled.


Away Mode: All sensors will be monitored and an alert will be sent if they're triggered.


Disarmed Mode: No sensors in your home will be monitored and no alerts will be sent.

How to connect motion sensors
A perfect accessory for NVR and DVR systems also using the Lorex Home App
Keep all your security together. This Sensor Kit seamlessly integrates with your NVR or DVR security camera system that also connects to the Lorex Home App.


Sensor Linking to Lorex Security Cameras
Automatically start recording on a compatible Lorex security camera the moment an add-on sensor is activated. This means that the linked camera will already be recording before it is able to detect the motion itself, which can give you valuable pre-event video to provide more context.
What's Included?
AY41TR Sensor Hub
Color
White
Power
Power adapter input: 100-240V AC, Power adapter output: 5V DC
Connectivity
BLE5.0
Lights
Status Indicator Light
Installation Type
Tabletop or wall mount
Setup Requirements
Lorex Home APP
Compatibility
Lorex DVR's or NVR's using Lorex Home APP
Operating Conditions
Indoor Use
Warranty
1 year limited warranty
AM41TK PIR Motion Sensor
Color
White
Power
Battery: CR2450, included
Connectivity
BLE5.0
Detection Range
26ft Max.*
Detection Angle
110° Max.
Installation Type
Tabletop, wall or ceiling
Lights
Status Indicator Light
Setup Requirements / Compatibility
Lorex Sensor Hub, Lorex Home Center
Mounting
Adhesive, included
Operating Conditions
Indoor Use
Operating Temperature
14°F ~ 113°F / -10°C ~ 45°C
Operating Humidity
0 ~ 95% RH
Warranty
1 year limited warranty
AK41TK Door / Window Sensors
Color
White
Power
Battery: CR1632, included
Connectivity
BLE5.0
Lights
Status Indicator Light
Installation Type
Tabletop or wall mount
Setup Requirements / Compatibility
Lorex Sensor Hub, Lorex Home Center
Mounting
Adhesive, included
Operating Conditions
Indoor Use
Operating Temperature
14°F ~ 113°F / -10°C ~ 45°C
Operating Humidity
0 ~ 95% RH
Warranty
1 year limited warranty
Package Contents:
Sensor Hub
1 × PIR Motion Sensor
1 × Door / Window Sensors
Sensor Hub Power Accessory
Sensor Hub Bracket
PIR Motion Sensor Bracket
Mounting Adhesives
Pin
Sensor Pre-Inserted Batteries