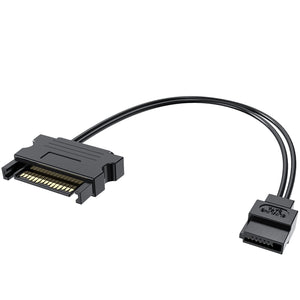 SATA Power 15-Pin Male to SATA 6-Pin Slimline Power Adapter Cable
SATA 15 pin to 6 pin adapter allows you to use a SATA power cable to power disc CD, DVD drive or slimline SATA hard drives.

Simply plug the sata 15 pin connector from the power supply into the 15 pin adapter and the 6 pin connector into the DVD drive. Easy to use, plug and play.

Suitable for connecting slim dvd with replacement psu. No need to worry about upgrading the new power supply without a cable for DVD drive.

With 8 inch/20cm length, short and flexible, perfect for internal cable management.