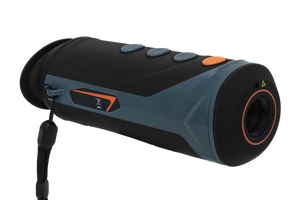 Portable Thermal Monocular Camera
Comes with Range Detection and Fire Detection
Detect wildlife with complete darkness
50HZ frame rate with 4 level digital zoom
Battery Life: >9 h (Wi-Fi hotspot off, @25°C)
Micro SD card capacity (Max. 256G)
Features
See the heat with the Thermal Monocular Camera. Rather than visible light, thermal cameras use different levels of infrared energy or heat to create an image. This allows it to easily detect people, animals, and objects in all kinds of environments, including complete darkness, haze, or glaring light.
Portable & Durable
A small, lightweight, and IP67 weatherproof design, along with a very low power consumption rate, make this camera an especially handy long-term outdoor tool.
Video Ranging
With its hassle-free distance measurement feature, simply mark the top and bottom of a target on the screen, and the interface will automatically display the distance of the target from the monocular.
Fire Detection
The monocular can automatically detect fires that break out in the scene and track them in real time.
Multiple Color Palettes
Choose from four different color palettes to meet your observation needs.
Iron Red
Improve the comfort of long-term observation under night conditions
Rainbow
Convenient for users to quickly identify targets
White Hot
Suitable for observing active targets
Alarm
Quickly detect the emergence of high-temperature targets
Product Specifications
General
Appearance
Thermal Monocular Camera
Type
Monitor
Thermal
Detector Type
Vanadium oxide uncooled focal plane detector
Effective Pixels
256 × 192
Pixel Pitch
12 μm
Spectral Range
8 μm–14 μm
Sensitivity (NETD)
≤50 mK@f/1.0
Focal Length
7.5 mm; 10 mm; 15 mm
Aperture
F1.0
Field of View
7.5 mm
(H: 24.0°; V: 18.0°)
10 mm
(H: 17.3°; V: 13.1°)
15 mm
(H: 11.7°; V: 8.8°)
Focus Control
Fixed-focal
Close Focus Distance
7.5 mm
1 m (3.28 ft)
10 mm
2 m (6.56 ft)
15 mm
3 m (9.84 ft)
DRI Detection Distance
Focal Length
Detection Distance
Recognition Distance
Identification Distance
7.5 mm
Vehicle: 777 m (2,549.21 ft)
Human: 291 m (954.72 ft)
Vehicle: 194 m (636.48 ft)
Human: 75 m (246.06 ft)
Vehicle: 97 m (318.24 ft)
Human: 37 m (121.39 ft)
10 mm
Vehicle: 1,111 m (3,645.01 ft)
Human: 416 m (1,364.83 ft)
Vehicle: 277 m (908.79 ft)
Human: 107 m (351.05 ft)
Vehicle: 97 m (318.24 ft)
Human: 53 m (173.88 ft)
15 mm
Vehicle: 1,666 m (5,465.88 ft)
Human: 625 m (2,050.52 ft)
Vehicle: 416 m (1,364.83 ft)
Human: 160 m (524.93 ft)
Vehicle: 208 m (682.41 ft)
Human: 80 m (262.47 ft)
Digital Zoom
4 levels
Color Palettes
4 (white hot; alarm; rainbow; iron red)
Display
Video Compression
H.265
Frame Rate
50 Hz
Display Screen Dimensions
0.2 inch
Resolution
720 × 540
Certification
Certification
CE_DHQA-ESH-P21060763B
FCC_DHQA-ESH-P21060764B
Function
Storage
Micro SD card (Max. 256G)
Laser Aiming
180 m (590.55 ft), Class 2 (IEC 60825-1)
Buzzer
Yes
Intelligence
Fire Detection
Yes
Cold/Hot Spot Trace
Yes
Port
Analog Output
1 × CVBS output
Wi-Fi Hotspot
Yes
USB
Micro USB
Power
Power Supply
5 VDC, 0.3 A or built–in battery
Battery Capacity Display
Yes
Power Consumption
<1.5 W
Battery Life
>9 h (Wi-Fi hotspot off, @25°C)
Charging Time
<3 h
Environment
Operating Temperature
–20 °C to +55 °C (–4 °F to +131 °F)
Operating Humidity
≤90%
Storage Temperature
–20 °C to +60 °C (–4 °F to +140 °F)
Physical Characteristics
Protection
IP67
Product Dimensions
170.9 mm × 57.6 mm × 58.6 mm (6.73" × 2.27" × 2.31") (L × W × H)
Packaging Dimensions
205 mm × 148 mm × 111 mm (8.07" × 5.83" × 4.37") (L × W × H)
Net Weightth>
350 g (0.77 lb)
Gross Weight
1 kg (2.20 lb)
Installation
Handheld; tripod
Power Adapter
Included
Lens
Included
Bracket
Optional
Drop Test Height
2 m (6.56 ft)