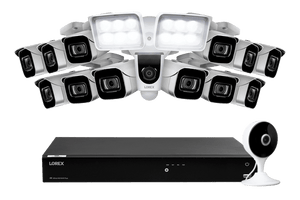 Lorex Fusion 4K 16-Channel 3TB Wired NVR System with 8 IP Bullet Cameras, One 1080P Floodlight and One 2K Indoor Wi-Fi Camera
Features
Welcome to the next level of Fusion. This system starts with our 16-channel Fusion NVR, which can connect any combination of Wired and Wi-Fi cameras. This means that you can record the included 4K Wired IP Security Cameras, the Floodlight Camera, and the 2K Indoor Wi-Fi Camera around the clock to the NVRs large 3TB security grade hard drive. It also means that you can add up to six more Wired or Smart Home cameras to create your perfect security ecosystem.


See Clearly, Day and Night

4K Ultra HD Resolution
Color Night Vision

At the core of this camera is an 8MP image sensor. 8MP means there are more than 8 million pixels, which results in exceptionally sharp 4K video, realistic color representation, and superior digital zoom capabilities.




Built for the outdoors
Mother Nature is no match for this security camera. Rated IP67, it can endure anything from torrential downpours to freezing snowstorms. So go ahead and place this security camera where you need it most.



140°F | 60°C Heat Rating


-22°F | -30°C Cold Rating


IP67 Weatherproof




2K Indoor Wi-Fi Security Camera
The compact, lightweight design and magnetic base promise flexibility in placement, while the included mounting kit allows for ceiling or wall installation.

2K Resolution Recording
Person Detection
2-Way Communication
No Monthly Fees
Infrared Night Vision


1080P Video Floodlight
Combine security and lighting with this powerful Floodlight Camera.

1080p Full HD Resolution
Active Deterrence
Ultra-Wide Motion Detection
Install With Existing Wiring
Infrared Night Vision


Smart Home Compatibility
Get faster access to your security system by connecting it to other Smart Home devices; use simple voice commands to activate camera features with Amazon Alexa™ and Google Assistant™, use it with Chromecast or Firestick to monitor your security camera footage on a larger screen, or download the Lorex Home app on your Apple TV* to view live video in single or multiple feeds. For more information about current smart home integrations, visit our Smart Home Guide.


*Requires Gen 4 or newer Apple TV with support for App Store
Same Look - Home or Away
Enjoy a seamless monitoring experience whether you are accessing your system locally through the recorder or remotely through the app. The Recorder User Interface now uses the same look and feel as the Lorex Home app, making it easier than ever to navigate and find events as you switch platforms.
Free Local Storage, No Monthly Fees
Local storage means no monthly fees and with the built-in 2TB hard drive, you will have ample storage, while your recordings stay safe and private.
What's Included?
Dimensions (W×D×H): 16 x 5.7 x 4.5" (405 x 145 x 114 mm)
Weight: 3.3 lbs. / 1.5 kg
Package Contents:
4K IP Bullet Camera
Mounting Kit
Cat5e Ethernet Cable
Quick Start Guides
Stated IR illumination range is based on ideal conditions in typical outdoor nighttime ambient lighting (up to 90ft/27m in total darkness). Actual range and image clarity depends on installation location, viewing area and light reflection/absorption.
Color nighttime video typically switches to black & white IR night vision when there is not sufficient ambient light to ensure optimal low-light image quality.
Not intended for submersion in water. Installation in a sheltered location recommended.
Compatible with select Lorex Series NVRs. For a list of compatible recorders, please visit

 

www.lorex.com/compatibility
Dimensions (WxDxH): 7.7" x 7.3" x 2" (196mm x 185mm x51mm)
Weight: 1.17lbs / 0.53kg
Package Contents:
2K Wi-Fi Camera
16GB MicroSD Card
Universal Mount
Power Adapter
Mounting Kit
Quick Start Guide
Receive push notifications from the Lorex Home app1
2-way communication allows for seamless communication with your visitor/family, if you're in a different room or even different home.
Easily access your videos with voice commands (Compatible with: Google Assistant and Amazon Alexa)2
View live or recorded videos from your smartphone, tablet, or Apple TV3
View more with night vision range up to 32ft (10m)4
Convenient built-in local MicroSD card slot upgradable to 256GB
Dimensions (WxDxH): 12.5" x 9.3" x 6.8" (318mm x 236mm x 173mm)
Weight: 3.97lbs / 1.8kg
Package Contents:
1080P Floodlight
Mounting Kit
MicroSD Card
Quick Start Guide
2 × 2000 lumens light arrays for optimal light coverage
LED floodlight can activate when motion is detected, manually, or on a schedule
See more with 1080p resolution and a wide 137° Field of View (diagonal)
PIR Motion 270° Field of View (diagonal)
IR night vision up to 50ft (15m)1
No monthly fee for video recording, storage and photo capturing
Includes a 32 GB microSD card. Supports up to 256 GB microSD storage
Built-in mic and speaker for 2-way talk. Listen or talk directly to anyone on your property using the Lorex Home App2
Conveniently use the existing wiring from your previous floodlight or outdoor house light
Dimensions (W×D×H): 12.9 x 9.6 x 2.1" (328 x 245 x 53 mm)
Weight: 2.75 lbs. / 1.26 kg (excl. HDD)
Info / Panic Button
Hard Drive, Network, Recorder & Power LEDs
USB
Power Button
Power Input
Power Switch
PoE Ports
Alarm
HDMI
VGA Port
RS232
LAN
Audio In / Out
Package Contents:
4K Fusion NVR
Ethernet Cable
USB Mouse
HDMI Cable
Power Adapter
4K (8MP) IP cameras are required to take advantage of 4K recording.
Recording time may vary based on recording resolution and quality, lighting conditions and movement in the scene.
Fusion™ capabilities are limited to 2 wireless devices per system. Wireless devices require an available channel on the NVR as well as a sufficient signal strength between the device(s) and your Wi-Fi router for video streaming. For full details on Wi-Fi cameras compatibility and instructions, visit

 

www.lorex.com/pages/fusion
Controlling certain features in your security system requires a compatible smart device. Availability and performance of certain features and services are smart device dependent and may not be available in all areas or networks. For compatibility, features, and instructions visit

 

www.lorex.com/smarthome
Compatible with certain Lorex IP and select wireless cameras only. For a list of compatible cameras please visit

 

www.lorex.com/compatibility
Accessing your security system remotely requires a high-speed Internet connection. Ensure your NVR has a wired connection to a router (not included). A minimum upload speed of 5Mbps is recommended for reasonable video performance. Up to 3 devices may connect to the system at the same time. For the latest list of supported apps and devices, please visit

 

www.lorex.com/compatibility
HDMI output supports 4K HD for high definition multi-channel live or recorded video viewing. Image quality and resolution is dependent on the type of camera connected to the NVR, as well as TV/monitor resolution.