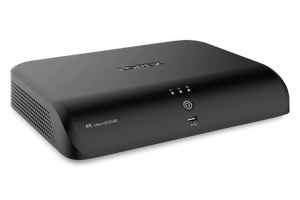 Lorex 4K 8-Channel 2TB Wired DVR with Smart Motion Detection, Face Recognition and Smart Home Voice Control
Record 4K video and customize your security experience with this innovative Digital Video Recorder (DVR) from Lorex. Featuring support for Smart Motion Detection, Face Detection, Face Recognition, Active Deterrence, Privacy Masking, and Virtual Fence (Perimeter Protection), this DVR will help you stay-in-the-know and secure your property. It will also fit right in with your smart home thanks to its Smart Home compatibility and voice recognition that gives you hands-free accessibility to add extra convenience to your monitoring. The large security grade hard drive also protects your privacy by keeping your data safe with you and off any costly cloud storage services.

D871A82B
SPECIFICATIONS

8
CHANNELS
DVR supports 8 cameras

4K
RESOLUTION
Ultra HD resolution

2TB
HARD DRIVE
Maximum Capacity 1 × 8TB hard drive


Works with
Lorex Home™ App


Smart Motion Detection
Only be notified of the most important moments with Smart Motion Detection.



Face Detection and Recognition
Perfect for front doors and entranceways, Face Detection and Recognition (available on two channels) will only notify you of motion events when a familiar face has been detected. This prevents motion notifications from people or vehicles simply passing by and not coming towards the camera. You can also easily preview all the different faces that the camera has captured for quick reference on the DVR. You can also review and filter only face detection events in Smart Search.

Filter smart motion events with the Lorex Home app


Person and Vehicle Detection
Smart Person and Vehicle Detection (available on all channels) helps identify more important objects that enter the camera's field of view. Thanks to this innovative feature, you will only get a push notification whenever a person or vehicle is detected on your property. This effectively reduces the number of unwanted false alerts caused by moving branches or animals. Recorded motion alerts can easily be reviewed by using the Smart Search function.


Remote viewing from your mobile with Lorex Home™
This DVR is designed for use with our innovative Lorex Home™ app. Using this app, you can quickly view your security system remotely and control camera features from your smartphone. The app will also send you motion-activated push notifications straight to your phone to keep you connected to your property at all times.

Works With

works with Apple iPhone
Apple iPhone
works with Apple iPad
Apple iPad
works with Android phones
Android Phone
works with android tablets
Android Tablet
works with AppleTV
Apple TV




Lorex Sensor Kit and Lorex Home App


Add A Sensor Kit!
The Lorex Sensor Hub also uses the Lorex Home App, allowing you to seamlessly integrate Add-On Sensors into your home security.

Motion Sensor
VIDEO-FREE
Real-time sensor alerts
INSTANT ALERTS
link sensors with wifi cameras
SENSOR LINKING*

Learn More

*Link individual sensors to another Wi-Fi camera connected to the Lorex Home App. N842, N843, N844, N862, N863, D861, D862, D871 Series recorders also support sensor linking to a wired camera through the Lorex Home App. Lorex Sensor Hub Compatibility




Smart home compatibility
Get faster access to your security system by connecting it to your other Smart Home devices. Use simple voice commands to activate camera features with Amazon Alexa™ and Google Assistant™. Use it with Chromecast or Firestick to monitor your security camera footage on a larger screen. Or download the Lorex Home app on your Apple TV* to view live video in single or multiple feeds. For more information about current smart home integrations, visit our Smart Home Guide.


*Requires Gen 4 or newer Apple TV with support for App Store



Panic button
Stop events before they happen. An easy-to-use panic button located on the front of the recorder will activate all lights and sirens on your compatible Active Deterrence cameras to deter potential intruders.

Lorex Area Search
Playback Smart Search
Find what you are looking for quickly with Lorex's Smart Search. Select an area of interest and automatically playback any video footage showing scene changes in that area. Ideal for doorways, drive ways, etc.

Lorex Area Search
Privacy Masking
In the event that a camera is facing an area that you do not want recorded, simply activate the privacy masking feature to draw a square around the spot(s) you don't want the camera to record.


Virtual Fence (Perimeter Protection)
Expand the detection range beyond what your cameras can provide. Create a fence line or a specific area and be notified if the line is crossed or the area is breached.1



HEVC / H.265 video compression
This DVR is able to receive HEVC (High Efficiency Video Encoding) or H.265 video compression files. This type of encoding can save up to 40% more space when compared to H.264 Advanced Video Coding.


24/7 heavy-duty professional HDD for security systems
Reliable security grade hard drive with no hidden storage fees
Included in the DVR is a built-in security-grade hard drive that has been designed to meet the demands of 24/7 surveillance recording. With the possibility of increasing storage space up to 8TB, there is more than enough room to safely store all motion events that only you can access.

DVR with auto-recovery
Automatic overwrite
You don't have to worry about storage management with this DVR. It is designed to automatically overwrite the oldest data with the newest data when the hard drive becomes full.
What's Included?
Record and view video up to 4K (8MP) Ultra HD resolution on all cameras1
Digitally zoom in up to 8x on distant objects for better clarity
With Privacy Masking enabled, in the event that a camera is facing an area that you do not want recorded, simply activate the privacy masking feature to draw a square around the spot(s) you don't want the camera to record
With Smart Motion Detection and Face Recognition receive notifications when a person, vehicle or a person's face is detected on your property from the Lorex Home™ app2
Using Virtual Fence3, create a fence line or set an area that requires heighten security monitoring and receive notifications when that line is crossed or the area has been breached
Use Smart Search to filter motion events for reviewing footage quickly and easily4
A panic button is located on the recorder to Active Deterrence features on compatible cameras5
Local built-in security-grade hard drive ensures only you can access your footage
Supports up to an 8TB hard drive with no hidden monthly cloud fees
Heavy-duty hard drive designed to handle the workload of 24/7 monitoring
Quickly access your live footage with simple voice commands (compatible Alexa and Google)6
Control your Deterrence cameras features with your voice (compatible with Google Assistant only)
View live or recorded video directly on your smartphone or TVwith smart home compatibility (Compatible with Apple TV and Chromecast)7
Each D871A82B Series Includes:
1 × DVR
1 × HDMI Cable
1 × Power adapter
1 × USB Mouse
1 × Ethernet Cable
Quick Start Guide
Recording time may vary based on recording resolution and quality, lighting conditions and movement in the scene.
Accuracy of Smart Motion Detection or Person and Vehicle Detection will be influenced by multiple factors, such as the object's distance from the camera, the size of the object, and the height and angle of the camera. Night vision will also impact the accuracy of detection.
Virtual Fence is available on up to 2 channels only. Smart Motion Detection can not be enabled on the same channel when a single channel is enabled. To enabled Virtual Fence on 2 channels, Smart Motion Detection must be disabled on all channels
Accuracy of Face Detection and Face Recognition will be influenced by the distance of the face from the camera. Partially or fully covered faces will not be detected. Night vision will impact the accuracy of Face Detection. Facial recording without consent is illegal in certain jurisdictions. Lorex Technology does not assume liability for any use of its product that fails to conform with local laws.
Compatible with select Lorex cameras only. For a list of compatible cameras, please visit

 

lorex.com/compatibility
Controlling certain features in your security system requires a compatible smart device. Availability and performance of certain features and services are smart device dependent and may not be available.
AppleTV™ or Chromecast™ need to be connected to the same network as your recorder. Requires AppleTV Gen 4 or newer with Lorex Home Apple TV APP or Chromecast ™ device connected to the TV that you want to view the system on.
Face Detection and Face Recognition are available on up to 2 channels only. Smart Motion Detection can not be enabled on all channels while Face Detection or Face Recognition is enabled.
Requires a high-speed internet connection and a router (not included) for remote access. A minimum upload speed of 7.5Mbps is required for the best video performance. Up to 3 devices may connect to the system at the same time. For the latest list of supported apps and devices, please visit:

 

lorex.com/support
Both firmware and software must be updated to latest version to ensure remote connectivity in all areas or networks. For compatibility, features, instructions visit:

 

lorex.com/SmartHome
HDMI output supports up to 4K for high definition multi-channel live or recorded video viewing. Image quality and resolution is dependent on the type of camera connected to the DVR, as well as TV/monitor resolution.