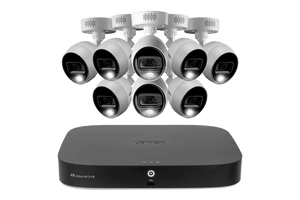 Lorex 4K 20-Channel (16 Wired and 4 Wi-Fi) 2TB Wired DVR System with Analog Active Deterrence Cameras
Features

Combine the reliability of wired Analog security cameras and the versatility of Smart Home Wi-Fi cameras with this Fusion DVR system. Featuring a 20-channel DVR that can connect up 16 wired cameras and up to 4 Wi-Fi devices (such as Wi-Fi cameras, Video Doorbells, and Floodlight Cameras), this system allows you to expand and customize your security to fit your needs. Also included are 4K Active Deterrence Security Cameras that have been designed with motion activated spotlights and warning sirens to help you prevent events before they happen. Thanks to this wired and wireless Fusion, all cameras (including the Wi-Fi cameras) can now record around-the-clock to the DVR's security grade hard drive and can easily be monitored all in one place thanks to the Lorex Home app.




4K Analog Active Deterrence Security Cameras
Record 4K security video and experience the latest in smart innovations to provide the highest level of security for your property.

4K Resolution
Color Night Vision™
IP67 Weatherproof
Deterrence



4K 4K 20-Channel (16 Wired and 4 Wi-Fi) Digital Video Recorder
Record 4K security video and experience the latest in smart innovations to provide the highest level of security for your property.

Security Hard Drive
HEVC
Panic Button
Smart Motion Detection


Smart Home Compatibility
Get faster access to your security system by connecting it to other Smart Home devices; use simple voice commands to activate camera features with Amazon Alexa™ and Google Assistant™, use it with Chromecast or Firestick to monitor your security camera footage on a larger screen, or download the Lorex Home app on your Apple TV* to view live video in single or multiple feeds. For more information about current smart home integrations, visit our Smart Home Guide.


*Requires Gen 4 or newer Apple TV with support for App Store

works with Googleworks with Alexa


Same Look - Home or Away
Enjoy a seamless monitoring experience whether you are accessing your system locally through the recorder or remotely through the app. The Recorder User Interface now uses the same look and feel as the Lorex Home app, making it easier than ever to navigate and find events as you switch platforms.


4K Ultra HD, ensuring clear and detailed footage, every time1
See more with an 105° Field of View (horizontal)
Experience enhanced nighttime clarity and better video evidence with Color Night Vision™2
Up to 135ft (41m) IR night vision in low light and 90ft (28m) in total darkness3
Motion-activated LED warning light
Deter unwanted guests with the remote-activated siren Weatherproof rated (IP67)
Operates in temperatures low as -40°F (-40°C) and high as 131°F (55 °C)
Durable camera housing, designed to withstand harsh weather conditions
Each C883DA Includes:
1 × 4K Bullet Camera
1 × Mounting Kit
1 × Power Adapter
Quick Start Guide
1 × 60ft BNC/DC UL Certified Extension Cable
Compatible with select Lorex analog HD recorders. For a full list of compatible recorders visit:

 

www.lorex.com/compatibility
Full color nighttime video typically switches to black & white IR night vision below 1 lux to ensure optimal low-light image quality.
Stated IR illumination range is based on ideal conditions in typical outdoor night time ambient lighting and in total darkness. Actual range and image clarity depend on the installation location, viewing area, and light reflection/absorption level of an object. In low light, the camera will switch to black and white.
Not intended for submersion in water. Installation in a sheltered area recommended
Dimensions (W×D×H): 12.9 × 9.6 × 2.1" (328 × 245 × 53mm)
Weight: 2.75 lbs. / 1.26 kg (excl. HDD)
Hard Drive, Power & Network Statuses
USB Ports
Info / Panic Button
Wired Camera Connection
Audio Connection (In / Out)
Monitor Connection (VGA)
Power Switch (On/Off)
Monitor Connection (HDMI)
Network Connection (LAN)
PTZ Connection (RS-485)
Power Connection
Package Contents:
4K Fusion DVR
Ethernet Cable
USB Mouse
HDMI Cable
Power Adapter
Recording time may vary based on recording resolution and quality, lighting conditions and movement in the scene.
Accuracy of Smart Motion Detection or Person and Vehicle Detection will be influenced by multiple factors, such as the object's distance from the camera, the size of the object, and the height and angle of the camera. Night vision will also impact the accuracy of detection.
Accuracy of Face Detection and Face Recognition will be influenced by the distance of the face from the camera. Partially or fully covered faces will not be detected. Night vision will impact the accuracy of Face Detection. Facial recording without consent is illegal in certain jurisdictions. Lorex Technology does not assume liability for any use of its product that fails to conform with local laws.
Face Detection and Face Recognition are available on up to 2 channels only. Smart Motion Detection can not be enabled on all channels while Face Detection or Face Recognition is enabled.
Virtual Fence is available on up to 2 channels only. Smart Motion Detection can not be enabled on the same channel when a single channel is enabled. To enabled Virtual Fence on 2 channels, Smart Motion Detection must be disabled on all channels.
Compatible with select Lorex cameras only. For a list of compatible cameras, please visit

 

www.lorex.com/compatibility
Controlling certain features in your security system requires a compatible smart device. Availability and performance of certain features and services are smart device dependent and may not be available.
Requires a high-speed internet connection and a router (not included) for remote access. A minimum upload speed of 7.5Mbps is required for the best video performance. Up to 3 devices may connect to the system at the same time. For the latest list of supported apps and devices, please visit: www.lorex.com/support
Both firmware and software must be updated to latest version to ensure remote connectivity in all areas or networks. For compatibility, features, instructions visit:

 

www.lorex.com/smarthome
HDMI output supports up to 4K for high definition multi-channel live or recorded video viewing. Image quality and resolution is dependent on the type of camera connected to the DVR, as well as TV/ monitor resolution.
AppleTV™ or Chromecast™ need to be connected to the same network as your recorder. Requires AppleTV Gen 4 or newer with Lorex Home Apple TV APP or Chromecast ™ device connected to the TV that you want to view the system on.