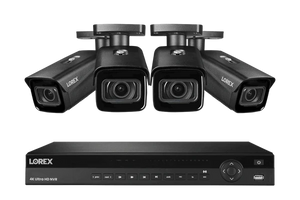 Lorex 4K 16-Channel 4TB Wired NVR System with Nocturnal 4 Smart IP Bullet Cameras Featuring Motorized Varifocal Lens, Vandal Resistant and 30FPS Recording
NOCTURNAL 4
SECURITY CAMERA SYSTEM
Welcome to the next generation of Nocturnal security. Watch over your business like never before with this top performing professional-grade 16-channel security system featuring our latest Nocturnal 4 Bullet Security Cameras. With smooth Real-Time 4K recording, next level Color Night Vision, Smart Motion Detection, IK10 Vandal Resistance, ePoE technology, and IP67 rated weatherproof metal exteriors, these cameras will provide everything you need and more to deliver the best 24/7 surveillance for your business.


LNB9393 White Bullet Nocturnal CamerasLNB9383 Black Bullet Nocturnal Cameras



See Clearly, Day and Night

4K Ultra HD Resolution
Color Night Vision
Real-time 30 FPS
Motorized Varifocal Lens

Nocturnal security cameras use an 8MP image sensor that delivers exceptionally detailed 4K Ultra HD resolution video and incomparable low-light performance.





Improve Service, Efficiency, and Profitability
People Counting
Advance people counting analytics provides valuable information about the number of people inside your premises at any point in time.


Heat Mapping
Heat Maps illustrate customer movement to better understand where the heaviest and lightest traffic areas are.




Vandal Resistant
Nocturnal 4 Cameras are rated IK10. This means their heavy-duty metal exteriors are built with additional protection to withstand direct impacts.



Go The Distance With ePoE Technology

PoE vs ePoE System

Save on long distance cabling with Nocturnal 4 Cameras. They feature Enhanced PoE (ePoE) technology, which allows you to connect them up to 600m (2000 ft) away, compared to the standard 100m (328 ft), without the need for numerous PoE switches.


*N883 Series NVRs have 8 designated ePoE ports (CH 1-8) compatible with Nocturnal 4 Series Cameras.


Built to Last
Pro-Grade heavy-duty aluminum housings protect against weather and vandalism, extending the life-cycle of your camera so you can count on years of uninterrupted service.


Built for the Outdoors
Nocturnal security cameras can endure anything from torrential downpours to freezing snowstorms. So go ahead and place these security cameras where you need them most.


IP67 WATER RATING
The IP67 durable camera exterior ensures protection against harsh weather conditions
–40 °C / -40 °F COLD RATING
60 °C / 140 °F HEAT RATING

Always Know What's Happening
Keep an eye on trespassers and vehicles with advance AI features like Smart Motion Detection, which detects motion from person/vehicle



Person/Vehicle Detection



Secure access anytime, anywhere
Always have your security system at your fingertips with the Lorex Cloud™ app for your mobile device or the Lorex Cloud client for your computer. See what your cameras see, watch recorded playback, and receive push notifications for motion-triggered events with the help of the Lorex Cloud.


Download on the App Store
Get it on Google Play


Local Storage - No Monthly Fees
Included in the NVR is a 4TB security-grade hard drive designed for advanced processing and the workload of 24/7 recording

2 hard drive bays with up to 2 × 10TB of storage space

Storage mirroring for continuous back-up of data from one hard drive to another
Dimensions (LxWxH): 273.2mm × 95.0mm × 95.0mm (10.76" × 3.74" × 3.74")
Weight: 1.11lbs / 2.44kg
Cable Notch
Adjustment Screw
Adjustment Knob
Zoom (T) Wide Angle (W) Buttons
MicroSD Card Slot
Reset Button
Camera Lens
Infrared Lights
Package Contents:
4K Motorized Varifocal IP Camera
Mounting Kit*
Allen Key*
Cables sold separately. Purchase CAT5e/CAT6 extension cables here.
*Per camera in multi-camera packs.
4K capable recorder (not included) is required to record video in 4K resolution. 4K TV (not included) is required to view live or pre-recorded 4K video.
Smart Motion Detection is enabled by default. When enabled, the camera's recording frame rate is reduced from 30 frames per second to 20 frames per second. To obtain the maximum of 30 frames per second, the camera must be connected to a recorder that supports the maximum frame rate. For a list of compatible recorders, please visit

 

lorextechnology.com/compatibility
In order for Person and Vehicle detection to operate, this camera requires a connection to a compatible Lorex Network Video Recorder with smart motion detection technology. For a list of compatible recorders please visit

 

lorextechnology.com/compatibility
Color nighttime video typically switches to black & white IR night vision when there is not sufficient ambient light to ensure optimal low-light image quality.
Stated IR illumination range is based on ideal conditions in typical outdoor nighttime ambient lighting (up to 98ft/30m in total darkness). Actual range and image clarity depends on installation location, viewing area and light reflection/absorption.
Not intended for submersion in water. Installation in a sheltered area recommended.
A microSD card can be inserted for independent recording. Data can be accessed through the camera using a web browser but will not upload to the NVR or to the cloud for mobile app viewing.
Power, Hard Drive & Network Statuses
Channel Statuses
Navigation Controls
Power Button
Playback Controls
Switch Keyboards (shift)
Start/Stop Recording (rec)
Special Functions (fn)
Back/Cancel (esc)
Info Button
USB Port
Power Connection
Power Switch
Camera Connection (ePoE)
Camera Connection (PoE)
RS485 Alarm
Monitor Connection (VGA)
RS232
Audio In/Out
Monitor Connection (HDMI)
USB Port
Network Connection (LAN)
Package Contents:
4K NVR
Ethernet Cable
USB Mouse
HDMI Cable
Power Cord
4K (8MP) IP cameras are required to take advantage of 4K recording.
Recording time may vary based on recording resolution and quality, lighting conditions and movement in the scene.
Accuracy of Advanced Person and Vehicle Motion Detection will be influenced by multiple factors, such as the object's distance from the camera, the size of the object, and the height and angle of the camera. Night vision will also impact the accuracy of detection.
Accessing your security system remotely requires a high-speed Internet connection. Ensure your NVR has a wired connection to a router (not included). A minimum upload speed of 6 Mbps is recommended for reasonable video performance. Up to 3 devices may connect to the system at the same time. For the latest list of supported apps and devices, please visit

 

www.lorex.com/compatibility
Compatible with certain Lorex IP cameras only. For a list of compatible cameras please visit www.lorex.com/compatibility
HDMI output supports 4K HD for high definition multi-channel live or recorded video viewing. Image quality and resolution is dependent on the type of camera connected to the NVR, as well as TV/monitor resolution.
Both firmware and software must be updated to latest version to ensure remote connectivity.