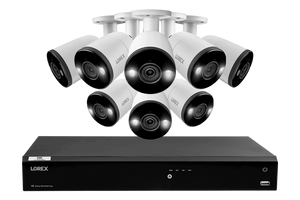 Lorex 4K (16 Camera Capable) 3TB Wired NVR System with 8 Smart Deterrence Bullet Cameras
By combining our latest N863 Series NVR and 4K Smart Deterrence cameras, this security camera system will provide you with the highest quality recording and the smartest features to protect your property. Featuring Smart Motion Detection Plus (either Face Detection or Smart Motion Detection), Smart Deterrence LED lights and siren, 2-way talk audio, this system is designed to stop potential events before happen. The NVR also includes a large hard drive for private local recording with no monthly fees and is easily connected to our Lorex Home App for easy remote viewing and motion notifications. The included cameras are fully weatherproof and can withstand all types of extreme weather, making this a perfect outdoor security camera system for any size of home.


16
CHANNELS
4K NVR can support
up to 16 cameras

4K
RESOLUTION
4× the resolution
of HD 1080p

150FT
NIGHT VISION
Maximum night
vision range

3TB
HARD DRIVE
Expandable up to
2 × 8TB



Experience the promise of 4K surveillance
Thanks to the camera's powerful 8MP image sensor, you'll experience the difference that 4K resolution makes when it comes to your security. 4K means there are more than 8 million pixels, and that results in sharper video, realistic color representation and superior digital zoom capabilities.
Smart Motion Detection Plus
Limit motion detection notifications with Smart Motion Detection Plus. This feature offers the option of either Face Detection or Person and Vehicle Detection.
Face Detection will limit notifications to only when the camera detects a face walking towards it. If Mask Detection is activated, the camera will send a notification that a mask is not detected and automatically ask visitors to "Please wear a face mask." You can also review and filter only face detection events in Smart Search.
Thanks to this innovative feature, you will only get a push notification whenever a person or vehicle is detected on your property. This effectively reduces the number of unwanted false alerts caused by moving branches or animals. Recorded motion alerts can easily be reviewed by using the Smart Search function
Take an active stance against uninvited guests
This camera comes with plenty of features that will help ward off uninvited guests. First, there is a motion-activated warning light that can be customized to only be triggered when a person or vehicle is detected. Second, you can use 1 of 3 selectable siren that you can control from your Lorex Home app. When the camera sensors detect motion, the system will send a notification directly to your phone, allowing you to remotely access the camera and set off a loud warning alert.
Listen-in Audio and Two-Way Talk
A built-in speaker and microphone allows for crystal-clear audio functionality. Listen-in audio recording will add a whole new dimension to your overall security monitoring, as it can provide additional details (like a voice) should an incident occur. This camera also has enhanced two-way talk with Quick Response Messages that lets you pre-record specific messages with your own voice using the Lorex Home app.*
*Audio recording is disabled by default. Audio recording without consent is illegal in certain jurisdictions. Lorex Technology does not assume liability for any use of its products that fails to conform with local laws.
Superior nighttime clarity with Color Night Vision™
This camera features our revolutionary Color Night Vision (CNV) technology, which will produce full-color video with the help of external lighting around the camera. In regular nighttime conditions that are too dark for CNV to render full-color images, this camera will use it's infrared LEDs to record crisp black and white video footage up to 150ft (46m) away and up to 98ft (30m) in complete darkness.
High Dynamic
Range (HDR)
HDR improves video clarity in high-contrast lighting, revealing details in extremely bright and dark areas of the image.
High Efficiency
Video Coding (HEVC)
HEVC compresses video file sizes without any noticable difference in quality, which will save you lots of hard drive space.
Full Metal
Exteriors
Heavy-duty aluminum exteriors add extra protection against vandalism and the elements, extending the life-cycle of the cameras.
Easy PoE
Installation
IP cameras only need a single Cat5e ethernet cable to connect it to a compatible NVR for video, power and a stable network connection.
Built for the outdoors
This camera has been designed to withstand the harsh impacts of nature. It has an IP67 rating (our highest weatherproof rating) and has a durable, all-metal housing for added protection.
140°F |
 

60°C

Heat Rating
-22°F |
 

-30°C

Cold Rating
Remote viewing from your mobile with Lorex Home™
This NVR is designed for use with our innovative Lorex Home™ app. Using this app, you can quickly view your security system remotely and control camera features from your smartphone. The app will also send you motion-activated push notifications straight to your phone to keep you connected to your property at all times.
Smart home compatibility
Get faster access to your security system by connecting it to your other Smart Home devices. Use simple voice commands to activate camera features with Amazon Alexa™ and Google Assistant™. Use it with Chromecast or Firestick to monitor your security camera footage on a larger screen. Or download the Lorex Home app on your Apple TV* to view live video in single or multiple feeds. For more information about current smart home integrations, visit our Smart Home Guide.
*Requires Gen 4 or newer Apple TV with support for App Store
Panic button
Stop events before they happen. An easy-to-use panic button located on the front of the recorder will activate all lights and sirens on your compatible Active Deterrence cameras to deter potential intruders.
Two storage bays
This NVR comes with two separate hard drive bays. Each of which can be upgraded with a hard drive up to 8TB, giving you the potential for a total of 16TB's of storage space. You can also use the second hard drive to record videos in parallel with the primary hard drive. This way, the footage is automatically backed up if the recording hard drive fails.
Regional
Motion Zones
The NVR can program specific motion zones for heightened sensitivity (the amount of motion needed to register that movement) and threshold (how much motion is needed before creating a motion "event").
Privacy
Masking
In the event that the camera is facing areas that you do not want recorded, simply activate the privacy masking option. Use the NVR to draw a square around the spot(s) you don't want the camera to record.
Easy Area
Search
Find what you are looking for quickly with Lorex's Area Search. Using the NVR, select an area of interest to automatically playback any video footage showing scene changes in that area.
What's Included?
Record and view video in up to 4K (8MP) Ultra HD Resolution on all cameras1
View live footage in up to 15fps and digitally zoom in on distant objects for better clarity2
Reduce unnecessary alerts and false alarms with Smart Motion Detection3
Get push notifications when motion from a person or vehicle is detected4
A choice of four different siren sounds are available including a Police siren or a house alarm sound5
Use Smart Search to filter motion events for reviewing footage quickly and easily
Set up to 3 areas to keep track of items left behind or removed, such as packages or other items of value. Auto-voice messages can be activated when an event takes place.
Quickly access your live footage with simple voice commands (compatible with Amazon Alexa and Google Assistant)6
View live or recorded video directly on your TV with smart home compatibility (Compatible with: Apple TV and Chromecast)
2 bay hard drive with up to 2 × 8TB of storage space with no hidden monthly fees
Local built-in security-grade hard drive
Heavy-duty hard drive designed for advanced processing and the workload of 24/7 monitoring
For improved security simply use the Lorex Home app to set a notification for when someone enters your business without a proper face mask
The voice prompt is another benefit that can be used to alert and remind non-mask wearers: "Please wear your face mask"
Expand your system with up to two Lorex Fusion™ compatible Wi-Fi products such as Wi-Fi cameras, Doorbells, Floodlights, and more7
Stream and record continuous video from your Wi-Fi cameras on your recorder with Lorex Fusion™
Increase the limited Wi-Fi SD-Card storage capacity of pair cameras by taking advantage of recording directly to the NVRs built-in HDD
Each N863A63B Includes:
1 × NVR
1 × AC power adapter
1 × USB mouse
1 × Ethernet cable
1 × HDMI cable
Quick Setup Guide
4K (8MP) IP cameras are required to take advantage of 4K recording.
Recording time may vary based on recording resolution and quality, lighting conditions and movement in the scene.
Accuracy of Smart Motion Detection will be influenced by multiple factors, such as the object's distance from the camera, the size of the object, and the height and angle of the camera. Night vision will also impact the accuracy of detection. Compatible with certain Lorex IP cameras only.
Accessing your security system remotely requires a high-speed Internet connection. Ensure your NVR has a wired connection to a router (not included). A minimum upload speed of 5Mbps is recommended for reasonable video performance. Up to 3 devices may connect to the system at the same time. For the latest list of supported apps and devices, please visit

 

www.lorex.com/compatibility
Compatible with certain Lorex IP and select wireless cameras only. For a list of compatible cameras please visit

 

www.lorex.com/compatibility
Controlling certain features in your security system requires a compatible smart device. Availability and performance of certain features and services are smart device dependent and may not be available in all areas or networks. For compatibility, features, and instructions visitwww.lorex.com/smarthome
Fusion™ capabilities are limited to 2 wireless devices per system. Wireless devices require an available channel on the NVR as well as a sufficient signal strength between the device(s) and your Wi-Fi router for video streaming. For full details on Wi-Fi cameras compatibility and instructions, visit

 

www.lorex.com/pages/fusion
HDMI output supports 4K HD for high definition multi-channel live or recorded video viewing. Image quality and resolution is dependent on the type of camera connected to the NVR, as well as TV/monitor resolution.
NVR has a total PoE power output of 130w. Different IP cameras have different wattage specifications. Please double check your camera specifications for power consumption (Wattage) requirements in order to not exceed the NVRs power output availability of the recorder when adding cameras. To learn more, please visit

 

www.lorex.com/compatibility
4K (8MP) Ultra HD, ensuring clear and detailed footage, every time1
See more with a wide-angle 108° field of view
Superior nighttime clarity with Color Night Vision2
Up to 150ft (46m) IR night vision in low light and 98ft (30m) in total darkness3
Warning light can be programmed to illuminate when a person or vehicle is detected
Using 1 of 3 selectable, remote activated sirens to deter unwanted guests
Deter unwanted guests with the remote-activated siren
Built-in mic and speaker allows you to listen and speak to visitors with Two-way talk4
Enhanced Two-way Talk with Quick Response Messages lets you pre-record specific messages with your own voice
Smart motion detection plus offers the option of either Face detection or Person and Vehicle Detection5
By activating Face Detection with Mask Detection Technology, get notifications when a person is not wearing mask. When automatic voice prompts enabled, the system will ask visitors to "Please wear a face mask" when masks are not detected
Receive notifications when a person, vehicle or face is detected on your property from your Lorex Home™ app5
Set up to 3 areas to keep track of items left behind or removed, such as packages or other items of value
Each E893AB Includes:
1 × 4K IP Security Camera
1 × Mounting Kit
1 × Cat5e Ethernet Cable
1 × Quick Start Guide
Compatible with select Lorex Network Video Recorders HD recorders. For a full list of compatible recorders visit:

 

www.lorex.com/compatibility
Color nighttime video typically switches to black & white IR night vision when there is not sufficient ambient light to ensure optimal low-light image quality.
Stated IR illumination range is based on ideal conditions in typical outdoor nighttime ambient lighting (up to 98ft/30m in total darkness). Actual range and image clarity depends on installation location, viewing area and light reflection/absorption.
Audio recording is disabled by default. Audio recording without consent is illegal in certain jurisdictions. Lorex Technology does not assume liability for any use of its product that fails to conform with local laws
For Face Detection to operate, this camera requires a connection to a compatible Lorex Network Video Recorder with smart face detection technology. For a list of compatible recorders please visit:

 

www.lorex.com/compatibility
Not intended for submersion in water. Installation in a sheltered location recommended.
Cable length is dependent on product configuration. See product packaging for details.
Mask Detection is compatible with select Lorex Network Video Recorders. For a full list of compatible recorders visit:

 

www.lorex.com/compatibility