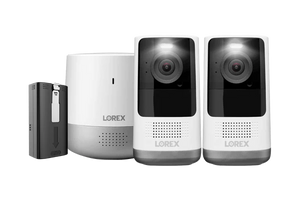 Lorex 2K Wire-Free, Battery-operated Security System (2-Cameras) + Battery Pack
Home monitoring has never been easier with this indoor/outdoor 2K Wire-Free Security System. Featuring the Lorex Home Hub and two 2K resolution cameras with Smart Deterrence technology and a rechargeable battery, this system will provide you with straightforward and secure home security to help you protect what matters most with no monthly fees.


H871T6D-4BA2-E-BA
SPECIFICATIONS

2K
RESOLUTION
Twice the resolution of 1080p

2
CAMERAS
Wire-Free Security Cameras

140°
FIELD OF VIEW
Wide diagonal viewing angle

32GB
MICRO SD
Maximum capacity: 256GB microSD card



2K Resolution Recording
A 4MP image sensor provides 2X the resolution as 1080p. This creates exceptionally sharp and detailed video.



Color Night Vision™
See in color at night with the help of ambient lighting around the camera. For low-light locations, infrared night vision will activate.





Built-in Person Detection
Know the moment a person is detected on your property with notification alerts sent directly to your smartphone.

Smart Deterrence
Easily deter any unwanted guest with a motion-activated LED warning light, a remotely triggered siren, and two-way talk capabilities.


An additional layer of security
A chime notification from The Lorex Home Hub can warn you of any motion activity caught by connected cameras.



No monthly fees
Local storage means no monthly fees. With the included WD Purple microSD card, you will have ample storage and your video recordings remain safe and secure.


Keep your wire-free camera up and running
Get an additional quick-release, rechargeable accessory battery pack to ensure no down time in your wire-free security monitoring. Compatible with U471AA 2K QHD Wire-Free Security Camera.


While the batteries can last between 6-9 months, this is dependent on how often the security camera turns on. This means that the battery life will be significantly less if the camera is in a high traffic area full of motion activity or much longer if it is in a very low traffic area. The period of time that the camera remains recording after the camera senses motion will also impact how long a battery will last. Click here to learn more.


Two ways to charge the battery:

Charging inside the camera
Charge without removing the battery by connecting the charging adapter and cable to the camera's power port on the back of the camera. Charge until the camera's LED indicator is solid green or keep it connected for a constant power supply.


Charging battery by itself
Simply slide the battery out from the camera to charge, without ever having to remove the camera. Use the charging adapter and cable to connect to the battery's power port and plug into a power outlet until the battery's status indicator is solid green.


Easily Expand your home security
Connect up to six 2K wire-free cameras to the Lorex Home Hub to monitor and stay connected to your home at all times.


Up to 6 Wire-Free Cameras

Works with Google Assistant Works with Alexa
Smart home compatibility
Get faster access to your security system with hands-free voice control. Use simple voice commands to activate camera features with Amazon Alexa™ and Google Assistant™. Use it with Chromecast or Firestick to monitor your security camera footage on a larger screen. For more information about current smart home integrations, visit our Smart Home Guide.




Stay connected on-the-go with the Lorex Home™ app

Your Lorex devices will always be within reach with help from the Lorex Home App. This versatile app allows you to remotely access your Lorex cameras so you can easily view live videos, customize your system settings, playback recorded motion events and more.
2K QHD Resolution
Built-in Person Detection
Color Night Vision™
Warning Light and Siren Including Two-Way Talk
140° Wide Field of View
Quick-release Rechargeable Battery
IP65 Weather Resistant
Each U471AA-E Camera Includes:
1 × Wire-Free Camera
1 × Mounting Bracket
1 × Mounting Kit
1 × Rechargeable Battery
1 × Quick Start Guide
Cameras not intended for submersion in water. Installation in a sheltered area recommended.
Battery life will vary based on temperature, settings, and number of events.
Power adapter is highly recommended for high-traffic areas. Additional camera power adapters are sold separately.
Audio recording without consent is illegal in certain jurisdictions. Lorex Technology does not assume liability for any use of its products that fails to conform with local laws.
Local Storage - No Monthly Fees
Record up to 2K QHD motion events
Built-in speaker and chime
Compact and modern design
Quick and easy set up
Each H871T6D Includes:
1 × Lorex Home Hub
1 × Power Adapter
1 × Ethernet Cable
1 × Quick Start Guide
1 × 32GB microSD card
(pre-inserted)
Compatible with certain Lorex devices only. For a list of compatible devices, visit

 

lorex.com/compatibility
Accessing your security system remotely requires a high-speed Internet connection. Ensure the Lorex Home Hub has access to a wired or Wi-Fi connection to a router (not included). An upload speed of 5Mbps is recommended for optimal video performance.
The Lorex Home Hub can be connected to your home router wired (using included CAT5E cable) or wirelessly. Lorex always recommends using a wired connection whenever possible.
Micro USB connector
Lithium Ion battery
6250mAh / 3.6V
Quick-release tab