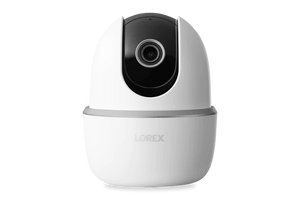 Lorex 2K Pan-Tilt Indoor Wi-Fi Security Camera
Our latest 2K Wi-Fi indoor security camera is compact and lightweight, giving you the benefits of a flexible placement option and easy installation. The Pan and Tilt feature allows you to view an entire room with just one camera, while the Privacy Mode ensures that the camera lens is hidden.



2K
RESOLUTION

PERSON
DETECTION

PAN &
TILT

2-WAY
TALK

16GB LOCAL
STORAGE


Compatible With Lorex Smart Home Security Center
This device can be added to the LSHSC along with other indoor and outdoor Wi-Fi cameras, video doorbells, floodlight cameras, and alarm sensors.


Learn More


Expand Your Coverage with Pan, Tilt, and Zoom
With the Pan and Tilt feature, the camera swivels left and right and tilts up and down for expanded coverage, while the digital zoom on the Lorex Home app enhances clarity. You can also view more with night vision range up to 32ft (10m).

2K Resolution Recording
A 4MP image sensor provides 2× the resolution as 1080p. This creates exceptionally sharp and detailed videos.





pan-tilt wifi indoor security camera in privacy mode
Privacy Mode
Enable Privacy Mode using the Lorex Home app to temporarily disable your camera. This may be useful while you're at home and don't need the camera to record or send notifications.


indoor Wi-fi pan-tilt 2K smart home camera with smart phone person detection notification
Person Detection
Avoid false alerts and unnecessary notifications with person detection, which is designed to recognize when a person enters the camera's field of view.


grandfather and child hearing parent speak through wi-fi security camera
2-Way Communication
Use the 2-Way Talk via the Lorex Home app to talk and listen to the person on the other end of the camera.


security grade microSD card on table
No Monthly Fees
Keep your footage private and secure with built-in local storage.



Works with Google Assistant Works with Alexa
Smart home compatibility
Get faster access to your security system with hands-free voice control. Use simple voice commands to activate camera features with Amazon Alexa™ and Google Assistant™. Use it with Chromecast or Firestick to monitor your security camera footage on a larger screen. For more information about current smart home integrations, visit our Smart Home Guide.


Stay connected on-the-go with the Lorex Home™ app
Your Lorex devices will always be within reach with help from the Lorex Home App. This versatile app allows you to remotely access your Lorex cameras so you can easily view live videos, customize your system settings, playback recorded motion events and more.
Dimensions (WxDxH): 3.9" x 3.9" x 4.2" (86mm x 86mm x 108mm)
Weight: 0.55lbs / 0.25kg
Package Contents:
2K Pan-Tilt
Camera
16GB MicroSD
Card
Universal
Mount
Power
Adapter
Mounting
Kit
Quick Start
Guide
Receive push notifications from the Lorex Home app1
2-way communication allows for seamless communication with your visitor/family, if you're in a different room or even different home.
Easily access your videos with voice commands (Compatible with: Google Assistant and Amazon Alexa)2
View live or recorded videos from your smartphone, tablet, or Apple TV3
Pan and Tilt capabilities allows the cameras to cover larger areas. Digital zoom on the app delivers an added level of clarity
View more with night vision range up to 32ft (10m)4
Convenient built-in local MicroSD card slot upgradable to 256GB