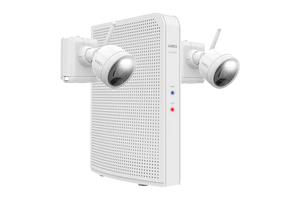 Lorex 2K 8-Channel 64GB NVR System with Two Outdoor Battery Security Cameras
Our wire-free security systems are a promise of flexibility and DIY simplicity. With its battery-operated wireless connection and weatherproof rating, you can install the Lorex 2K wire-free security camera indoors or outdoors, without unsightly cables ruining the aesthetics of your home! Security features of the cameras include Person Detection and Active Deterrence. Enhance your security with the Lorex 2K NVR that offers you ample video storage for your wire-free cameras. The 2K wire-free bundle ensures easy installation and efficient monitoring; day and night.


L4248E-4AA2-E
SPECIFICATIONS

6
CHANNELS
NVR can support up to 6 × U424AA cameras

2
CAMERAS
2 × U424AA 2K Wire-Free cameras

64GB
MICROSD
Upgradeable
to 128GB

Lorex Cirrus
Lorex Cirrus Enabled



2K Resolution Recording
Get twice the resolution of 1080p. This creates exceptionally sharp and detailed video.





Person Detection
Know the moment a person is detected on your property with notification sent directly to your smartphone.

Active Deterrence
Easily deter any unwanted guest with a motion-activated LED warning light, a remotely triggered siren, and 2-Way talk capabilities.


Quick and easy setup
Without the need to run wires to the cameras, installation becomes easier and faster. The cameras also feature quick-release Power Pack, which makes recharging simple.

No monthly fees
Local storage means no monthly fees - MicroSD local storage means ample storage for your video footage.


Monitor your home or property whenever you like


Lorex Cirrus
Stay connected to your Lorex wire-free security system from anywhere with the Lorex Cirrus App. Receive push notifications straight to your phone's home screen if one of your cameras detects motion, easily review past motion events using the easy-to-read history timeline, and much more.


Lorex Client 13
Lorex Client 13 gives you access to your security system and its settings over the Internet using a PC or Mac computer. With this software, you will be able to view live and recorded video, as well as save manual recordings and snapshots to your computer's hard drive. The software is available under the downloads section below.




Smart home compatibility
Get fast access to you Wi-Fi camera with hands-free voice control. Use simple voice commands to activate camera features with Amazon Alexa™ and Google Assistant™. Use it with Chromecast or Firestick to monitor your security camera footage on a larger screen. For more information about current smart home integrations, visit our Smart Home Guide.
Full 2K Video resolution1
See wider and clearer with a 140° Diagonal Field of view
See more at night with IR Night Vision up to 40ft (12m)2
Quick-release Power Pack makes recharging simple
Motion-activated LED warning light
Deter unwanted guests with the remote-activated siren
Built-in mic and speaker allows you to listen and speak to visitors with 2-Way Talk5
Only receive notifications that matter with built in person detection6
Each U424AA-E Includes:
1 × Wire-Free Camera
1 × Rechargable Power-Pack
1 × Mounting Kit
1 × Quick Start Guide
Image quality and frame rate are dependent on the distance and types/locations of objects between the camera and the recorder.
Stated IR illumination range is based on ideal conditions in total darkness. Actual range and image clarity depends on installation location, viewing area and light reflection/absorption.
Battery life will vary based on temperature, settings, and number of events.
Compatible exclusively for models U424AA Wire-Free cameras.
Audio recording without consent is illegal in certain jurisdictions. Lorex Technology does not assume liability for any use of its products that fails to conform with local laws.
Accuracy of Person Detection will be influenced by multiple factors, such as the object's distance from the camera, the size of the object, and the height and angle of the camera. Night vision will also impact the accuracy of detection.
This camera is IP66 rated for outdoor use. Not intended for submersion in water. Installation in a sheltered location recommended.
In bundled systems that include this camera, only include 1 battery Pack Power adapter in the packaging.
Power adapter is highly recommended for busy high-traffic areas, and is required alongside a hard drive for continuous operation. Additional camera power adapters are sold separately.
See more detail with 2K resolution video3
Recorded events are easy to access from your recorder
With Person Detection get notifications when some one is on your property
Connect up to 8 Lorex wire-free battery operated cameras (U424AA Series) wirelessly to the recorder with a simple setup process1
Built-in mic and speaker allows you to listen and speak to visitors with Two-Way Talk
Quickly view with simple voice commands, compatible with Google Assistant2
The Active Deterrence cameras feature a warning light that can be set-up to automatically illuminate during general motion events or can be manually activated
View your system remotely with the Lorex Cirrus app for iOS/Android and Lorex Client 13 for Windows/macOS
H.265 video compression maximizes video storage and enables improved remote connectivity without the need to run wires to the cameras, installation becomes easier and faster