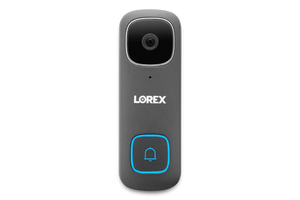 Lorex 1080p Wired Video Doorbells
Never miss a visitor again and capture every event at your front door with the new Lorex 1080p Wired Video Doorbell — now featuring a Nightlight, Person Detection, and Quick Response replies. Installed using the existing doorbell's electrical wiring, this doorbell is a hassle-free security solution that never needs to be recharged. The Doorbell's local storage also means your data stays private with no monthly fees.


Answer your doorbell with Lorex Home App

See the fine details
With 1080p Resolution, you will have clear video quality. With the expansive 16:9 display ratio, you will get a wide angle viewing of your front porch.



A light to welcome you home
The motion-activated nightlight feature will light up your doorstep welcoming you home.



See clear at night
Never miss a thing, day or night with IR Night Vision, which produces crisp black and white video in dark settings.



Answer instantly
When someone rings the doorbell, 2-Way Talk allows you to hear and speak directly through the doorbell to anyone at your front door. If you're busy, have Quick Response answer for you.



Shed Light on your Doorstep
Program the nightlight feature to turn on at night, when motion is detected, or manually to deter unwanted guests.



Know who's there, even when you're not
Be aware of activity around your doorstep with Person Detection. Get an instant notification from the Lorex Home app when motion from a Person is detected.


Built for any door
With the 2 included mounting wedges, you can install the doorbell at the optimal angle and to get the best picture. With a choice of a horizontal or vertical wedges, you have a choice for perfect placement.


Keep your recordings private
Your front door is a busy place. Keep your video recordings where they belong – private at home and with you. With the pre-installed 32GB MicroSD, your video footage stays private and secure. In addition to no monthly fees.


Reliable Wired Connection
This doorbell requires existing wiring. This continuous power means no interruption with having to change or charge batteries.


Installation Requirements:
Existing electrical wiring for doorbell.16V ~ 24V AC
12V ~ 24V DC2.4GHz
Wi-Fi

Answer your door from anywhere
Your home will always be within reach with help from the Lorex Home app. This versatile app allows you to remotely access your Video Doorbell to answer when someone rings, speak to anyone at the front door, view live video and playback recorded motion events.


Lorex Home App Logo
Download on the App Store
Get it on Google Play


Lorex Fusion Ecosystem
Build your security the way
you want with the Lorex
Fusion Collection


All-in-One Security
Connect all of your devices to one recorder with secure local storage for enhanced privacy and protection.


24/7 Recording
Continuous recording directly to your device with upgradable storage and no monthly fees.


One App Access
Remotely view all of your Lorex devices from one app, allowing for easy control and monitoring of your property from anywhere.



Smart Home compatibility
Get faster access to your doorbell with hands-free voice control. Use simple voice commands to activate features with Amazon Alexa™ and Google Assistant™. For more information about current smart home integrations, visit our Smart Home Guide.
What's Included?
Camera
Microphone
Status Indicator
Call Button
Night Light
QR Code
USB Port
MicroSD Card Slot
Reset Hole
Power Terminals
Speaker
Package Contents:
1 × 1080p Wired Doorbell
1 × Mounting Bracket
1 × Horizontal Wedge 15°
1 × Vertical Wedge 5°
1 × Connecting Wires
3 × Wire Caps
2 × Anchors & Screws
1 × Reset/Release Pin
Require a high-speed internet connection and a Wi-Fi router (not included) that supports 2.4Ghz. A minimum upload and download speed of 10 Mbps is required for optimal performance.
Requires 16 - 24 VAC. If the voltage is less, a transformer will be required to operate properly. Consult with a licensed electrician.
Audio and video recordings without consent, is illegal in certain jurisdictions. Lorex Technology does not assume liability for any use of its product that fails to conform to local laws.
Person Detection accuracy is compromised when the face and/or body is partially covered.
Not intended for submersion in water. Installation in a sheltered area is recommended.
When MicroSD card storage is full the older previously recorded video will automatically be overwritten with the latest recordings. NOTE: There is a limited number of write/re-write cycles rated by the MicroSD card, before performance is reduced.