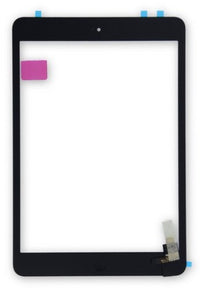 iPad mini 1/2 Screen Digitizer
Replace a scratched or cracked front glass digitizer or a broken home button on your 1st or 2nd generation iPad mini.
A new screen and digitizer assembly will renew the appearance of your front panel and restore touch functionality.
Make your installation quick and easy. There is no measuring, cutting, trimming, or shaping needed with the front panel adhesive strips preinstalled.
Front Glass Digitizer Panel
Blank Home Button
Digitizer Cable
Installation Adhesive
iPad mini 1st Gen A1432, A1454, and A1455
iPad mini 2 Retina A1489 and A1490
Part #:
820-3291-A, 821-3291