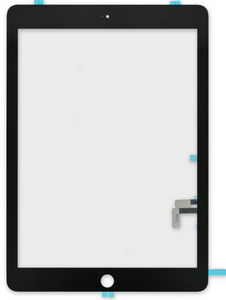 iPad 5 Screen Digitizer
Replace a scratched or cracked front glass digitizer on your iPad 5. A new screen and digitizer assembly will renew the appearance of your front panel and restore touch functionality.
Front Glass Digitizer Panel
Installation Adhesive Strips
NOTE
This part is compatible with the 1st generation iPad Air. But we have a more complete display assembly compatible with the iPad Air that we strongly recommend you purchase instead.
NOTE
This part is only the front glass. The LCD and home button are not included.
iPad 5 A1822 and A1823
iPad Air (1st Gen) A1474 and A1475