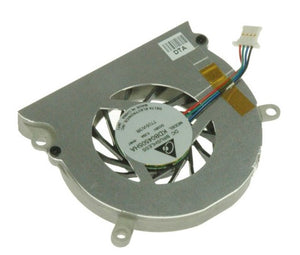 MacBook Pro 15" (Model A1150) Left Fan
*Item ships in 5-7 Business Days.
If your screen is facing you, this is the fan on the left side of the machine nearest the AirPort Express card.
In a world dominated by heat-fatigued electronics, fans rise up as heroes, providing relief in otherwise scaldingly hot conditions.
Though few in number, your 15" MacBook Pro (Model A1150) fans flourish their blades against the tyranny of heat that oppresses your computer internals. Embracing peril in sweltering conditions, this fan fights to defend your components from the unjust abuse of brutal temperatures. Replace expiring veteran fans to give your components the sweet relief they're longing for.
This left fan assembly includes the surrounding retaining metal bracket and left fan connector. The screws securing the fan to the logic board are not included with assembly.
Compatibility
Identify your Mac
1.83, 2 or 2.16 GHz (Model A1150) 15" MacBook Pros