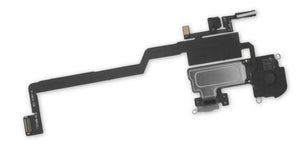 iPhone X Earpiece Speaker and Sensor Assembly
Replace a malfunctioning earpiece speaker and sensor assembly and fix problems with phone call audio and some sensor functions.
This speaker is used to listen while the phone is held to your ear.
PART ASSEMBLY INCLUDES
Earpiece Speaker
Flood Illuminator
Proximity Sensor
Microphone
NOTE
The Earpiece Speaker and Sensor Assembly is paired to the logic board in an iPhone X. This assembly contains the flood illuminator, which is part of the Face ID security feature. Replacing this assembly will not restore Face ID functions.