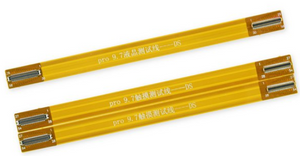 iPad Pro Test Cables for Display Assembly
This set of three test cables simplifies connecting and testing the functions of multiple display assemblies without having to complete the installation and close up the iPad's case.
Indispensable to anyone who makes multiple iPad Pro 9.7" display assembly repairs.
With this cable installed you can connect, test, and quickly swap multiple display assemblies while reducing wear and tear to the delicate FPC connectors on the logic board.
Two of the FPC connectors for the display assembly are the same size. The third is a bit longer. The set includes two cables for the smaller size connectors and one for the larger size.
COMPATIBILITY
iPad Pro 9.7" A1673 and A1674
WARRANTY
No Warranty - This product is expected to be consumed by normal use.