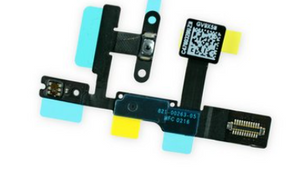 iPad Pro 9.7" Power Button Assembly
Replace a faulty power button switch.
This part does not include the external power button cover.
This part includes one of two microphones and one of two ambient light sensors for the iPad Pro 9.7".
COMPATIBILITY
iPad Pro 9.7" A1673 and A1674
SPECIFICATIONS
Apple Part #:
821-00263
WARRANTY
Lifetime Warranty - This iFixit product is guaranteed to function as long as you have it.