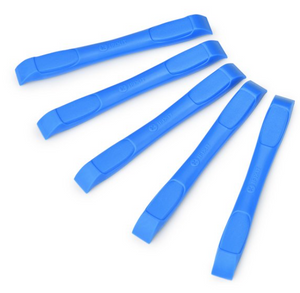 iFixit Plastic Opening Tools
*Item ships in 5-7 Business Days.
The essential tool for opening everything.
Use these soft plastic tools to safely pry open devices without scratching the case, glass, or internal components.
Sold in a pair of two different styles—a wide tool with a thin tip that's great for getting underneath glass and in thin cracks, and a smaller, stiffer tip that's good for prying tougher cases and enclosures.
NOTE: Because these tools are soft enough to not scratch or mar devices they will wear with each use. Expect each pair to last through 2-5 devices, depending on difficulty and experience.