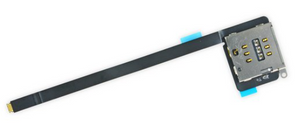 iPad Pro 12.9" SIM Card Bay
Replace your damaged SIM Card slot.
Your SIM Card and SIM Card Tray fit inside the SIM Card Bay.
COMPATIBILITY
iPad Pro 12.9" (!st Gen Cellular) A1652
SPECIFICATIONS
Apple Part #:
821-2692-A
WARRANTY
Lifetime Warranty - This iFixit product is guaranteed to function as long as you have it.