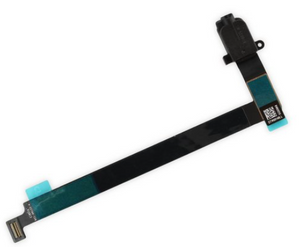 iPad Pro 12.9" Headphone Jack
iPad Pro 12.9" Headphone Jack
Item code: IF323-005-2
Identify your iPad
Something stuck in the headphone jack?
Check out the GripStick
$12.99
White / New
Black / New
White / New
1
1
2
3
Add to Cart Only 3 left
BLACK FRIDAY
BROKEN DOESN'T STAND A CHANCE.
Shop Deals
Product Details
FEATURES
Replace the headphone jack and its flex cable. The assembly includes one of the ambient light sensors.
COMPATIBILITY
iPad Pro 12.9" A1584 and A1652
SPECIFICATIONS
Apple Part #:
821-00122-A
WARRANTY
Lifetime Warranty - This iFixit product is guaranteed to function as long as you have it.