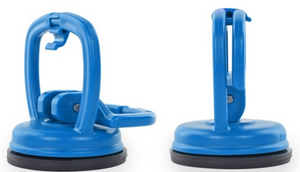 iFixit Heavy-Duty Suction Cups (Pair)
*Item ships in 5-7 Business Days.
Get a heavy-duty grip on heavy-duty glass.
Large glass panels rarely come with handles—use these suction cups to safely lift and remove glass from LCD screens.
Ideal for gaining entry into iMacs and glass-sheathed laptop displays.
For smaller displays, like those found in iPhones and iPods, check out our Small Suction Cup.
For years we struggled with finding a reliable source for quality suction cups, so we bit the bullet and made our own. Specially formulated rubber foot sticks stronger and longer.