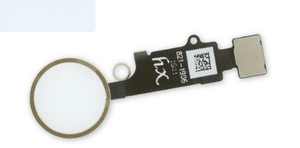 iPhone 7/7 Plus/8/8 Plus Replacement Home Button
Replace a damaged or malfunctioning home button and restore all functions excluding Touch ID.
This replacement home button is compatible with iPhone 7, iPhone 7 Plus, iPhone 8, and iPhone 8 Plus.
NOTE
The Touch ID function will only work with your phone's original home button assembly. Installing a replacement home button will only restore ordinary home button functions—not Touch ID features.