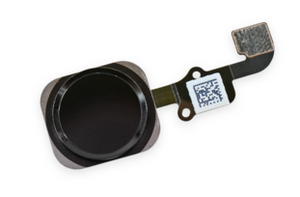 iPhone 6 / iPhone 6 Plus / iPhone 6s / iPhone 6s Plus Home Button Assembly
This Home Button Assembly includes the home button face, home button cable, and metal ring.
Any superficial problem on the home button face or issue with a sticky, stuck, or broken home button click should be fixed with this replacement.
PART ASSEMBLY INCLUDES
Home Button
Home Button Flex Cable
Home Button Metal Ring (color matched to your iPhone 6s Plus)
NOTE
The Touch ID function will only work with your phone's original home button assembly. Installing a new home button will only restore ordinary home button functionality—not Touch ID features.
NOTE
The part assembly does not include the gasket that seals the home button face to the front panel of the phone.