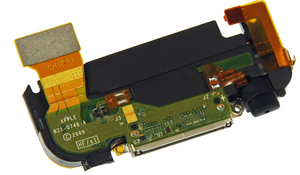 iPhone 3GS Dock Connector
*Item ships in 5-7 Business Days.
The 30-pin dock connector: Steve Jobs' brainchild in his vision for a universal interface. Everything from bite-sized iPod Nanos to less digestible iPads use this dock connector, and at one point, so did your iPhone 3GS. But now your wall charger, iHome, and car stereo are merely reminders of a better time—a time when plugging in your iPhone meant gazing fondly at a battery with a lightning bolt in it. Today, however the lightning bolt is gone and a vexing message stands in its place.
Bring back the good times with this replacement. We have the iPhone 3GS dock connector in black or white, so you can match your current color scheme or go avant-garde if you like.
Our iPhone 3GS dock connector is a new part, and is covered by our 6 month warranty. Compatibility is guaranteed in all iPhone 3GS devices, regardless of storage capacity. In addition to the docking port, the connector includes the speaker, antenna, and microphone.
Compatibility
Identify your iPhone
All 3GS iPhones