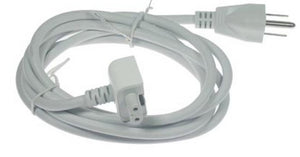 Apple AC Adapter (3-prong) Extension Cable
*Item ships in 5-7 Business Days.
Plugs into an Apple AC Adapter and provides a 6' extension. IMPORTANT: Works only with white AC adapters that originally shipped with a 3-prong extension cable. Your AC adapter connection must have only one bump in the oval socket connector to work with this cord. Please verify that your AC adapter has only 1 bump on the top of the oval where the extension cable plugs into the AC adapter.
Compatibility
All Apple brand MacBook Pro power adapters
All Apple brand MacBook power adapters
All Apple brand MagSafe 2 power adapters
All Apple brand white G4 power adapters