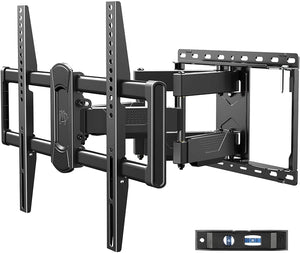 Mounting Dream Full Motion TV Mount UL Listed TV Wall Mount Bracket for 42-75 Inch TVs
ENORMOUS CAPACITY: The TV mount is strong as Superman, Huge as Hulk, Handsome like Thor. The one and only TV wall mount brand you can trust. Size capacity: 42-75 inch/ Max Weight capacity: 132 lbs. / Max VESA 600 x 400mm.
INTRIGUING FLEXIBILITY: TV mounts are fun and convenient that can move in all directions. With this, you'll find anywhere relaxing like home. Tilt function: +5°/-15° rotation function: +/- 3° swivel function: +/-45°.
AMAZING EXTENSION: Wall mount TV bracket is easy stretching like Luffy the Monkey and amazing manipulation. Display and extension: 2. 7 inch -18. 5 inch.
HUMAN DESIGN: 3 Easy and convenient steps to accomplish your goal. Easy as eating pizza. We think what you need.