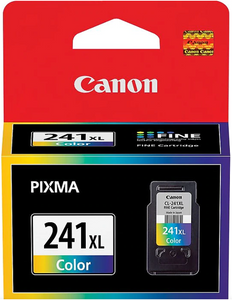 Canon CL-241XL Office Products FINE Color Cartridge Ink
New ChromaLife 100 ink formulation has an even wider range than previous generations
Genuine Canon Ink Cartridges allow free access to exciting exclusive content via Creative Park Premium
FINE (Full-Photolithography Inkjet Nozzle Engineering) Technology
Genuine Canon Quality
Genuine Canon inks and ink cartridges are designed, developed, manufactured and packaged in Japan. In other words, the entire process is centrally controlled and it makes the quality control simple and well-organized; and helps to maintain the quality of all genuine Canon inks at a high level. All genuine Canon ink cartridges are designed for your easy printing of your beautiful prints.
CL-241XL FINE Cartridges
Improved Print Quality & Speed
Canon has improved the 'FINE Cartridge', or integrated print head designed by utilizing FINE (Full-photolithography Inkjet Nozzle Engineering) technology, for higher print quality.
Dye-color ink of latest FINE Cartridge has wider color reproduction with richer colors than the previous generation FINE Cartridge, especially in Red area, i.e. around Yellow, Red and Magenta, to deliver more brilliant output not only on photo paper but also on plain paper.
CREATIVE PARK PREMIUM
Make Printing Fun
CREATIVE PARK PREMIUM is a premium content service available exclusively to owners of select Canon PIXMA printers only when all of the software and the colors of genuine Canon inks are installed.
The users can download various contents including photographs, paintings or illustrations from universally celebrated artists and print them from their PIXMA at a high quality with genuine Canon ink. Not only printing as a picture as it is, but users can also enjoy creating beautiful your own calendars, greeting cards and more.
Key Features
New ChromaLife 100 ink formulation has an even wider color range than previous generations.
Genuine Canon Ink Cartridges allow free access to exciting exclusive content via Creative Park Premium.
Produces beautiful photos thanks to FINE (Full Photolithographic Inkjet Nozzle Engineering) Technology from Canon.
Compatible Printers
PIXMA MG2120
PIXMA MG2220
PIXMA MG3120
PIXMA MG3220
PIXMA MG4120
PIXMA MG4220
PIXMA MX372
PIXMA MX432
PIXMA MX512