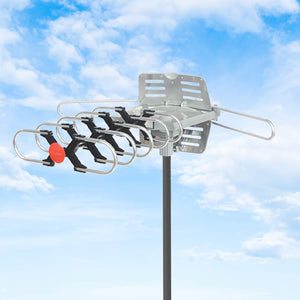 Amplified HD Digital Outdoor HDTV Antenna with Motorized 360 Degree Rotation
Reception: VHF/UHF/FM, Free HDTV 720p, 1080p depending on broadcasting signal and your TV set
Built-in 360 degree motor rotor. Rotor turns both ways to prevent cable from getting tangled.
Wireless remote controller for rotor (included)
Power : AC15V 300mA. Motor powered by coax cable that runs from the control box to the antenna. Power outlet is not required outside where the antenna is mounted
Mounting Pole not included. Pole required is 1-1 1/8"