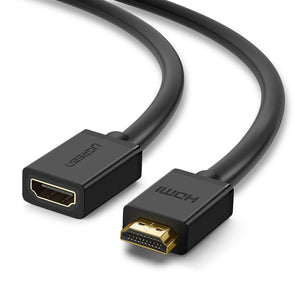 3' HDMI Cable HDMI Male to Female Extension Cable
HDMI extension cable extends an EXISTING HDMI Cable to connect any HD Televisions, Blu-Ray player, Gaming Consoles, Satellite Box, Cable Box, DVD Player, Roku, Boxee, Xbox360, PS3, HD Cable Box, PC Stereos or ANY device accepting the standard HDMI connector.
4K x 2K Support, HDMI Ethernet Channel, Audio Return Channel (ARC), Full 3D Support.
Superior Quality: Truly 19 pin PURE copper wire and triple shielded for maximum conductivity, 100% Backward compatible with all previous HDMI versions.
HDCP Compliant, Supports full 1080p HD viewing with digital transfer at rates up to 10.2Gbps - for excellent picture quality.
Extends your existing HDMI devices or protect your HDMI interface on your high definition devices. Itcould be applied to connect your HDTV to your Blu-Ray Player, 3D Television, Roku, Boxee, Xbox360, PS3, HD Cable Box, PC or any HD device with an HDMI output. Then you could experience high quality audio and video from your home theater.
Support the following features that are included in the HDMI Version 1.4A Specification:
4K x 2K Support
Supports ANY resolution to 4K (4096x2160)
HDMI Ethernet Channel
Delivers Ethernet data interconnectivity to compatible devices through the HDMI port so you don't need extra cables to get extended features
Audio Return Channel (ARC)
Allows the HDMI connection between a television and A/V receiver to transmit audio two ways, both upstream and downstream. This eliminates the need for a separate audio cable ensuring the high digital audio quality of HDMI
Full 3D Support
If your source and receiving device support 3D, this cable will!
Cable Specifications and Additional Features:
* Wire Gauge: 30 AWG
* OD: 7.3mm
* High Speed bandwidth: 10.2 GigaBit/sec (Tested and Certified to ATC Specification)
* Gold Plated 1u (All 19 wires and Ground Shroud)
* 19 pin, Type A MALE Connector to a Type A FEMALE Connector
* PURE copper wire for maximum conductivity - without ANY harmful lead
* Triple Shielded, EMI (Foil, braid, foil)
* 100% Backward compatible with all previous HDMI versions
Important Notes:
1. To ensure 4Kx2K @30Hz, the total length of the HDMI extension cable and connected HDMI male cable should not exceed 5M.
2. Our cable could support 4K, please make sure your devices support 4K resolution also.