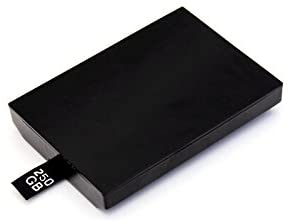 250GB Internal Hard Drive for XBOX 360 Slim
This 250GB Slim hard drive provides an all-purpose storage solution for media lovers and gamers alike.
Save your games, Xbox Live gamer profile, demos, and custom media from your own collection, such as music, movies, photos, community-created content from Xbox Live Marketplace, and more!
The modular design allows for easy transport between XBox 360 Slim consoles.
The product(s) in this listing are made by a third-party manufacturer and are unaffiliated with Microsoft Corporation.
Note: This hard drive for XBox 360 Slim is NOT compatible with the Xbox 360.
Capacity: 250GB.
Color: Black.
Drive size: 10.5 x 7.3 x 2cm.
Package size: 12.3 x 9.4 x 3cm.
Net weight: 131g.
Package weight: 164g.
Note: because the drive stored some system files that the available space may not be full 250GB.
Package Includes: 1 x 250 GB Hard Drive for Xbox 360 slim.