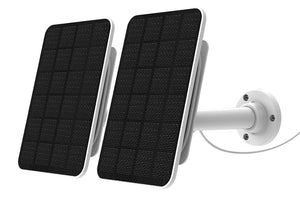 2-Pack Lorex Solar Panel for Battery-Operated Cameras
Features
Keep your Lorex Battery-Operated cameras continuously charged and prevent downtime with your security with this Lorex Solar panel. Tired of removing and charging batteries? This solar panel does not only reduce manual charging frequency but also helps reduce energy costs. With an easy setup and a long-lasting build, the solar panel is both an effortless and an environmentally friendly way to prolong the life for you cameras.
Easy and flexible installation
Easily attach to almost any surface using the included bracket and screws. Thanks to the 360 adjustable wall mount bracket, you can angle the panel into an optimal angle for sun exposure.
Built to Last
This solar panel can withstand harsh weather conditions with an IP65 rating, keeping your cameras charged year round.
Works with Lorex Battery-Operated Cameras
The Solar Panel is compatible with the following Lorex battery-operated cameras:
U855AA Series
U424AA Series
U222AA Series
U471AA Series
*This solar panel is compatible with Lorex Battery-Operated cameras (excluding doorbell) . See full compatibility list here.
Product Compatibility
U222AA-Series 1080p HD Wire-Free Security Camera with Rechargeable Power Pack
compatible
U424AA Add-On 2K Wire-Free Security Camera
compatible
U471AA-E Add-on 2K Wire-Free Camera
compatible
U855 Series - 4K Battery-Operated Cameras
compatible
Product Specifications
Electronic
Solar Cell
Monocrystalline Silicon
Solar Conversion Rate
20%
Maximum Power
3.2W
Voltage
6V
Current
530mA
Operating Temperature
-30 ºC ~ 70 ºC
Bracket
360° Adjustable Winding cable bracket wall mount bracket
Winding cable bracket
Structure
Dimension
185mm x 120mm x 6.5mm
Weight
0.286 kg
Material
Plastic, White
Power Interface
Micro USB
Cable Length
13 ft (4 Meters)
Waterproof Level
IP65
What's Included?
Package Contents:
Solar Panel
Bracket
MicroUSB Adapter
6 × Mounting
Anchors & Screws
Drill Bit